Target architecture¶
Audience: Architects, Integration developers, Integration Administrators, Site Reliability Engineers.
Overview¶
In this topic, we are going to:
Examine a high-level production deployment for ACE.
Examine the Kubernetes runtime component.
Understand the the GitOps model for ACE configuration and management.
Identify the different users of an ACE deployment.
At the end of the topic, you will understand the major components for a production-ready, cloud native App Connect Enterprise deployment.
---
Architecture overview diagram¶
The following diagram shows a typical ACE deployment: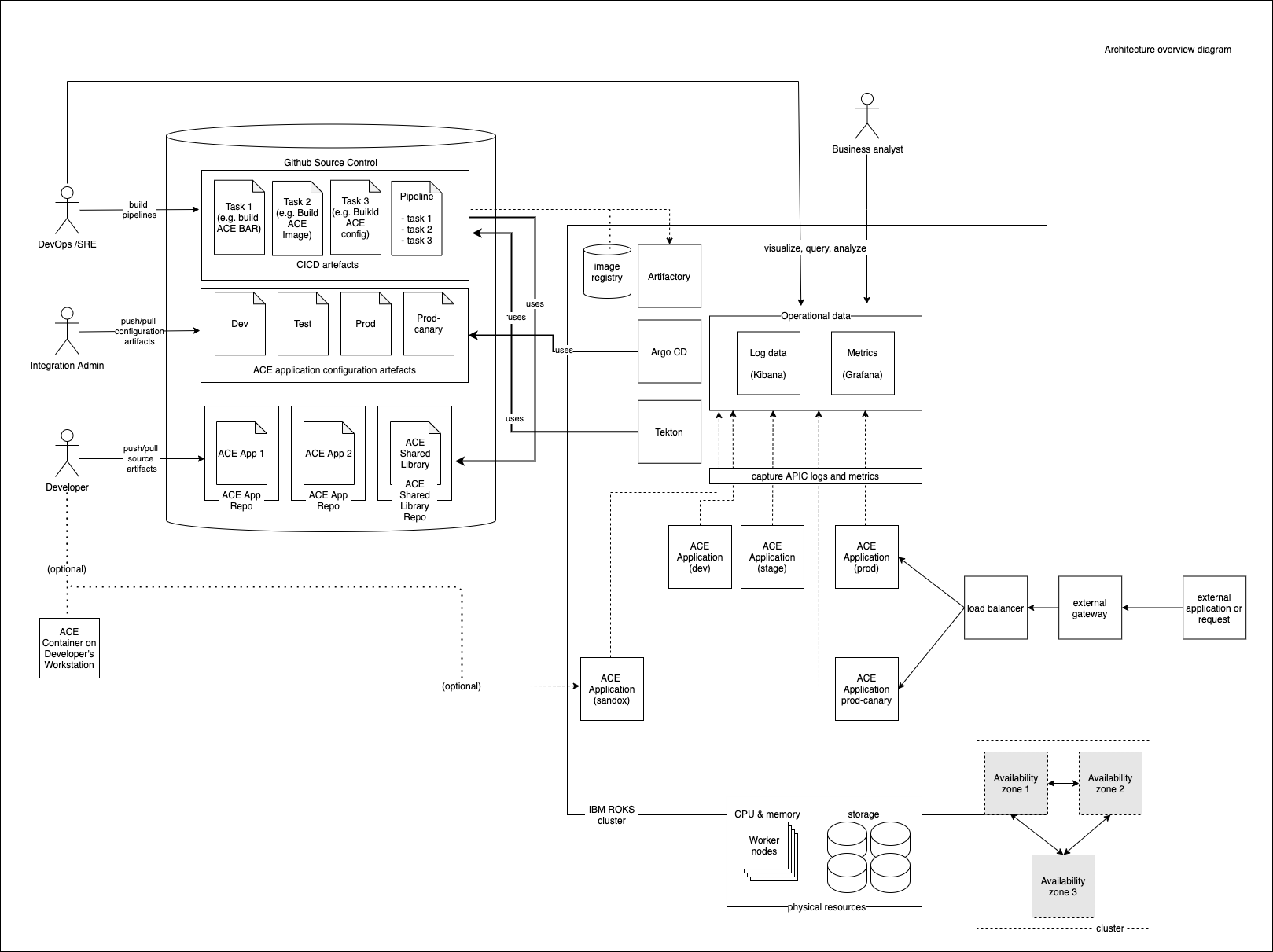 ---
You will notice the major components that are essential to a production-ready ACE cloud native deployment:
A Kubernetes cluster containing:

ACE applications.
Cloud native components such as Tekton, ArgoCD, Kibana and Grafana which will help operate this environment.

GitHub as a source of truth for the cluster runtime containing:

ACE application source (one Github repository per application).
ACE shared library source (one Github repository per shared library).
ACE application configuration artifacts.
CI/CD artifacts describing Tekton tasks and Pipelines.
This use of Git as a source of truth follows the GitOps model for the configuration and management of an ACE deployment in a Kubernetes cluster. We will learn more about this model throughout the guide.
Notice the set of users who interact with these components:
Integration Developers.
Integration Administrators.
DevOps specialists and Site Reliability Engineers.
Architects.
Business analysts.
ACE application users.
In this guide, we will see how these users work within this environment.